« Back to all News
GFMD members' capacity to administer emergency grants: Survey results
Author: Olga Komarova | 14. August 2020
STRENGTH IS IN NUMBERS AND COLLECTIVE EFFORTS
As the wave of COVID-19 infections surged around the world, media, news organisations, and journalists found themselves in a perfect storm: already eroded business models were put under further financial strain while millions of people were in need of reliable, fact-based, timely, and trustworthy information. Journalism organisations are trying to respond to this need while simultaneously keeping their businesses afloat, ensuring their staff and journalists' safety, and maintaining high professional standards.
Knowledge, skill-sharing, and collaboration are core facets of GFMD's membership activities, and we understand that during such global turmoil, building on and further expanding this service is imperative. In addition to hosting regular member-only webinars, we organised regular virtual Town Halls for our members. During these informal discussions, we collectively addressed topics that range from the economic sustainability of media during the crisis and managing the transition to remote work, to best practices for media organisations trying to cope with the current crisis, and ensuring that media professionals look after their mental health and mitigate stress during the pandemic.
We quickly learned that our members were working at a fast pace to consolidate their activities, mobilise partners, conduct needs analyses, and see how they can best respond to this crisis. Some organised online training for the first time (e.g. Arab Reporters for Investigative Journalism – ARIJ) and were happy to share lessons learned with the rest of the group. Others had considerable experience with remote learning and happily made their knowledge and resources available to the group (e.g. SembraMedia and IREX). Some shared advice on viability models and strategies; another member, Internews, presented their Rapid Response granting mechanism, while others offered business advice in coping with the economic effects of the crisis. Many other members including Fojo Media Institute, BBC Media Action, Free Press Unlimited, Fondation Hirondelle, International Center for Journalists, Organized Crime and Corruption Reporting Project (OCCRP), and others have also shared what they are doing in respect of COVID-19.
How we responded to the COVID-19 crisis
Building on our collaborative efforts and wanting to further amplify the needs of the sector, GFMD, the International Civil Society Organization on the Safety of Journalists Coalition (ICSO SoJ Coalition), and numerous GFMD members, partners, and affiliate networks launched a joint emergency appeal in response to the COVID-19 crisis to mark World Press Freedom Day 2020. The appeal was an overwhelming success, having been signed by almost 180 organisations, and will continue to act as a foundation for our advocacy going forward.
This joint endeavour is but one step we are taking to address the ongoing impact of COVID-19, however. We have also designed a survey aiming to gather comprehensive information and more concrete evidence of the capacity of our members to implement grant and sub-granting mechanisms and to determine how these can potentially be extended for COVID-19 or post-COVID-19 emergency support efforts. We asked our members to provide information about the countries they have an immediate capacity to potentially allocate and distribute grants, investment, and/or loans directly to journalism and news media organisations to relieve the consequences of COVID-19. 
Within a short timeline – the survey was open for only one week – we received responses from 33 GFMD members who have active granting mechanisms. The responses provide a snapshot of our member organisations' capacities and capabilities in facing the COVID-19 pandemic. 
Survey says:
Based on the survey results, we can truly say that GFMD is a global forum. GFMD members that completed the survey indicated that they administer grant-making mechanisms in 170 countries, where they implement or would have the capacity to administer 522 support programmes. Some members indicated they operate globally without listing specific countries in which they work. One member indicated that even though they do not typically allocate grants, their field offices confirmed they would be willing and prepared to establish emergency mechanisms in these exceptional circumstances. Some organisations specified they implement projects in one geographical location, while other members listed more than 50 countries where they operate. While large organisations have a wider reach and are active in many countries, in some cases, our regional member organisations noted that they have an exclusive presence in one particular location. For example, one GFMD member was the only organisation that had a presence in a number of countries in the Middle East, and another was the only one that reported grant-administering capacities in a group of countries in the Caribbean.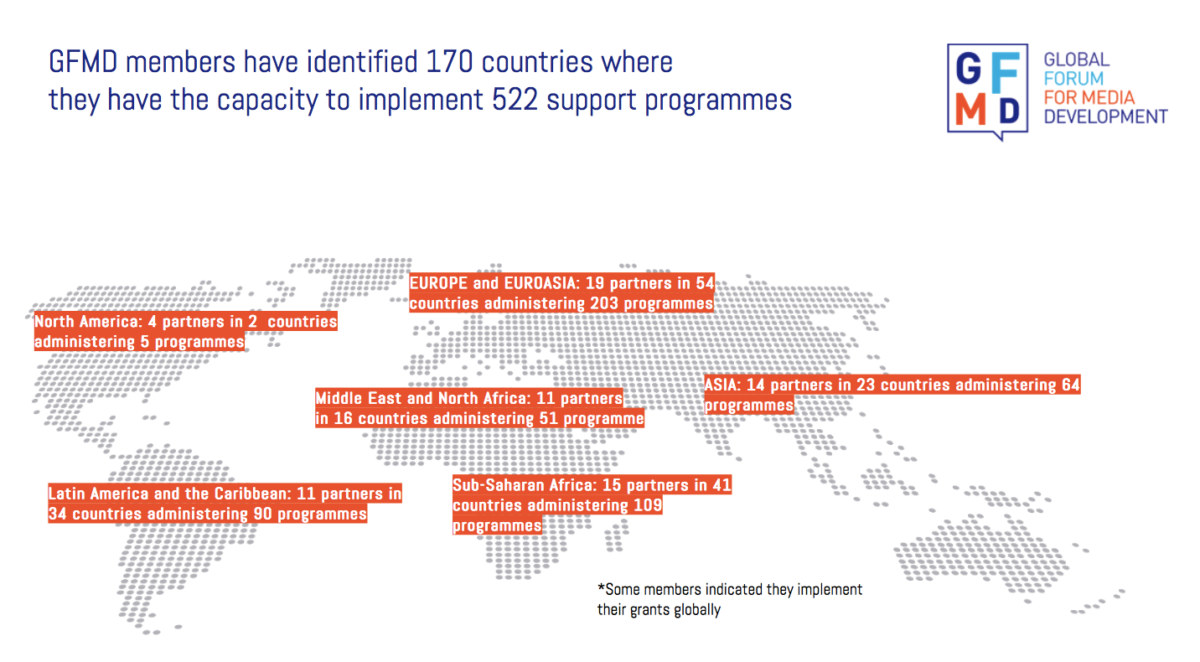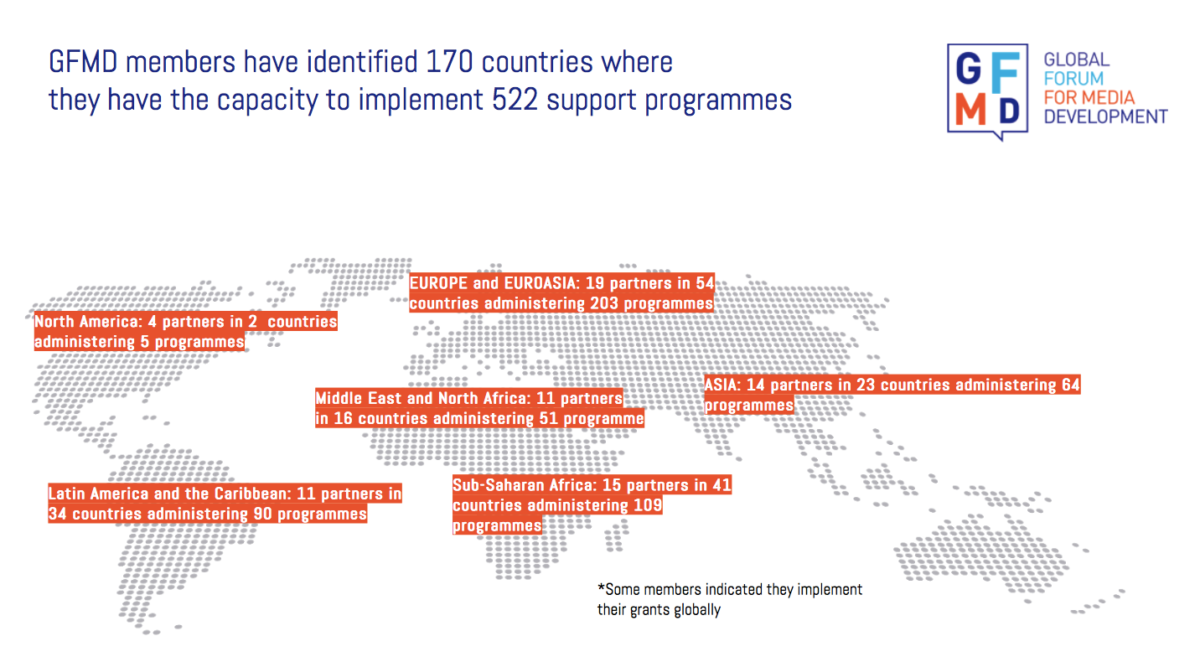 Illustration 1: GFMD Members Capacity to Administer Grants Globally
Out of 522 current or prospect programmes, 202 are based in Europe and Eurasia with many of our members focusing their efforts on countries in Eastern Europe and Caucasus – one third of the survey respondents (11 members) are operating in Bosnia and Herzegovina and Ukraine, followed by 10 in Serbia, 9 in Albania, Armenia, Georgia, Montenegro, and North Macedonia, and 7 in Moldova.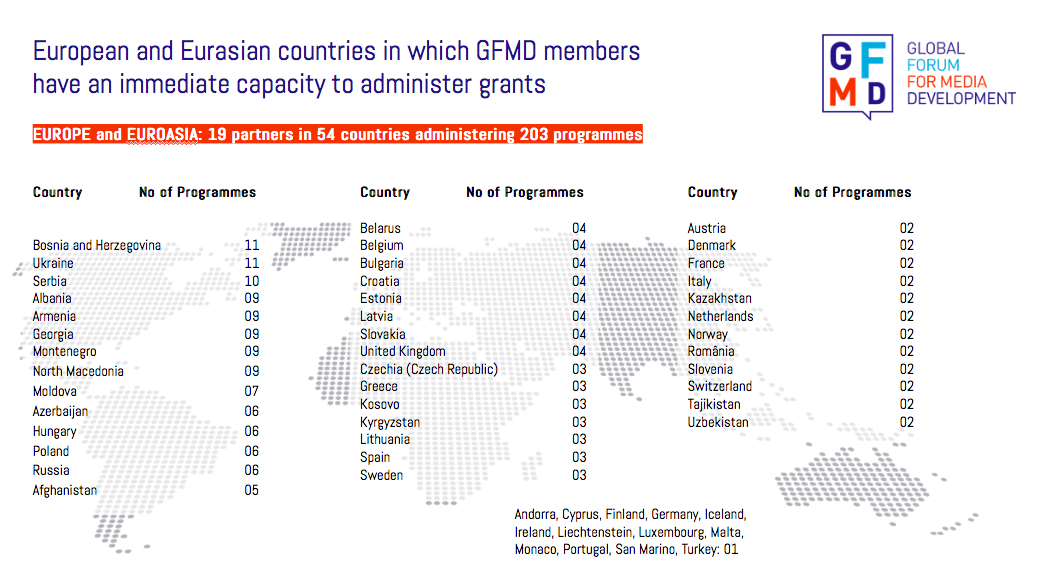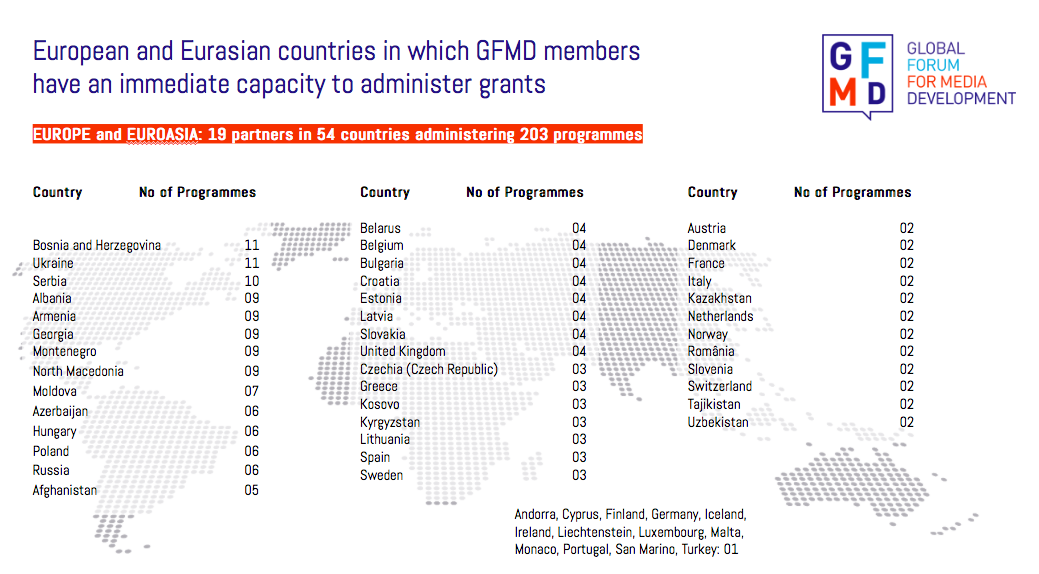 Illustration 2: Granting and sub-granting capacity of GFMD members in Europe and Euroasia
When we looked at the types of organisations eligible to receive support from our members, the majority of them identified organisations practicing journalism as grant and sub-grant recipients (media, journalism organisations, and media outlets were supported by 24 out of 33 organisations). Another type of entity that our members are supporting through granting and sub-granting mechanisms were non-profit media development and journalism support organisations (22). Our members also identified individuals (12), private sector media or tech start-ups (5), and academic, research, and think tank organisations (5) as their grant and sub-grant recipients. 
Regarding the type of funding executed, exclusive core funding is the least available funding option (only in 4 out of 33 cases), while a combination of restricted and core funding is the most prevalent (15 out of 33), and restricted funding is also customary (10 out of 33).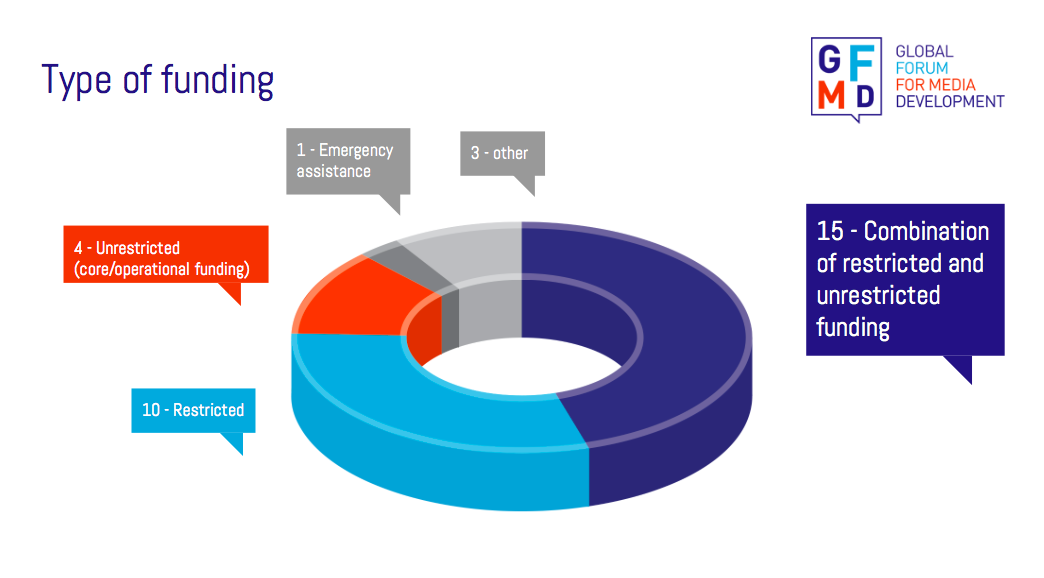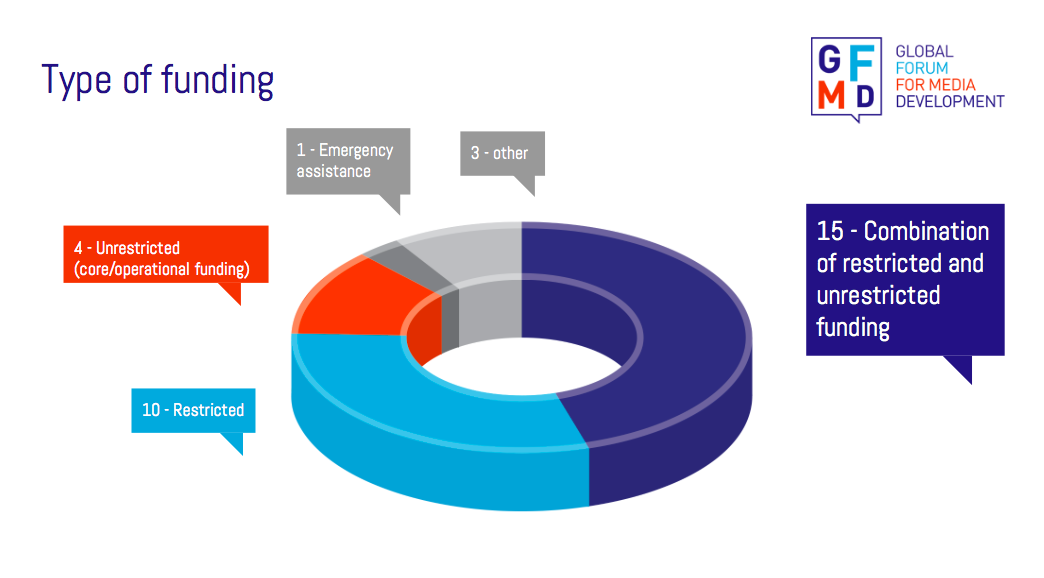 Illustration 3: Type of funding distributed
Out of 33 survey respondents, 60% (20 organisations) confirmed their programmes could be scaled to respond to the COVID-19 emergency, 14 responded they could be scaled fast (within days, weeks, or months), while 3 responded that programmes could be scaled with some conditions (depending on donors, country of operation, and funding for administrative support).
When asked which local or regional partner organisations they would recommend to be included in the emergency response in areas they work in, many of the respondents named other GFMD members. 
Through the survey responses we have identified a wide range of international organisations, institutions, development agencies, and philanthropic organisations addressing the needs of media and journalism support organisations and providing funding for their projects and initiatives. These include the UK Foreign and Commonwealth Office/Department for International Development, USAID, Luminate, Open Society Foundations, Swedish International Development Cooperation Agency, European Commission, Facebook Journalism Project, National Endowment for Democracy, Government of Canada, Government of Czechia, Ministry of Foreign Affairs of Denmark, Government of the Netherlands, ERSTE Foundation, and many others.
In addition to reporting numbers, geographical distribution, size, and type of support mechanisms, the respondents also wanted to bring forward their key observations and messages on the effects and ramifications of COVID-19. 
They emphasised that no organisation, regardless of size or business model, is spared. All types of organisations are in danger and the need for assistance is urgent. 
To illustrate the urgency, Internews reported that the first round of their Rapid Response Fund received more than 100 applications within the first 48 hours.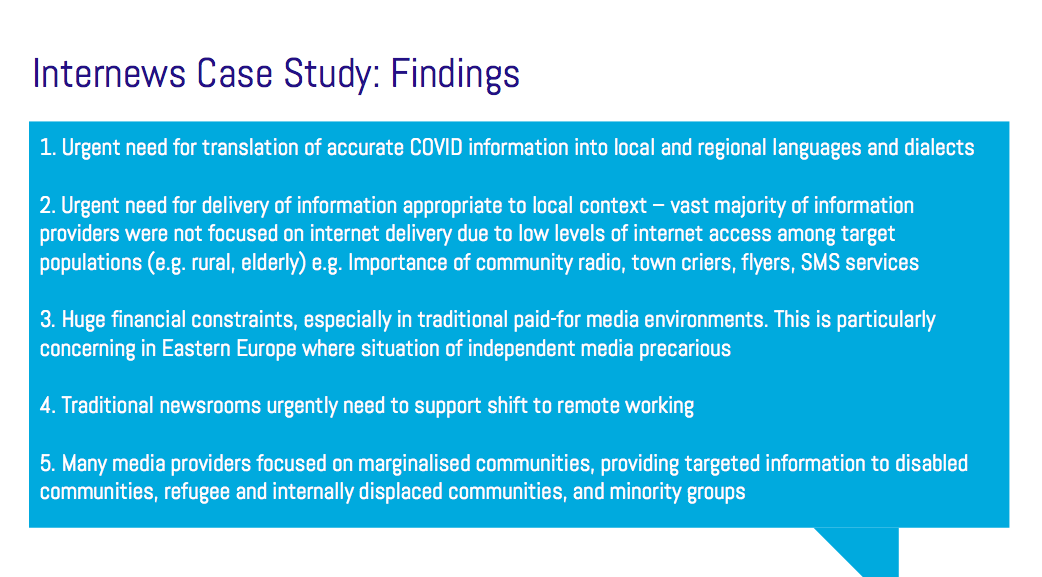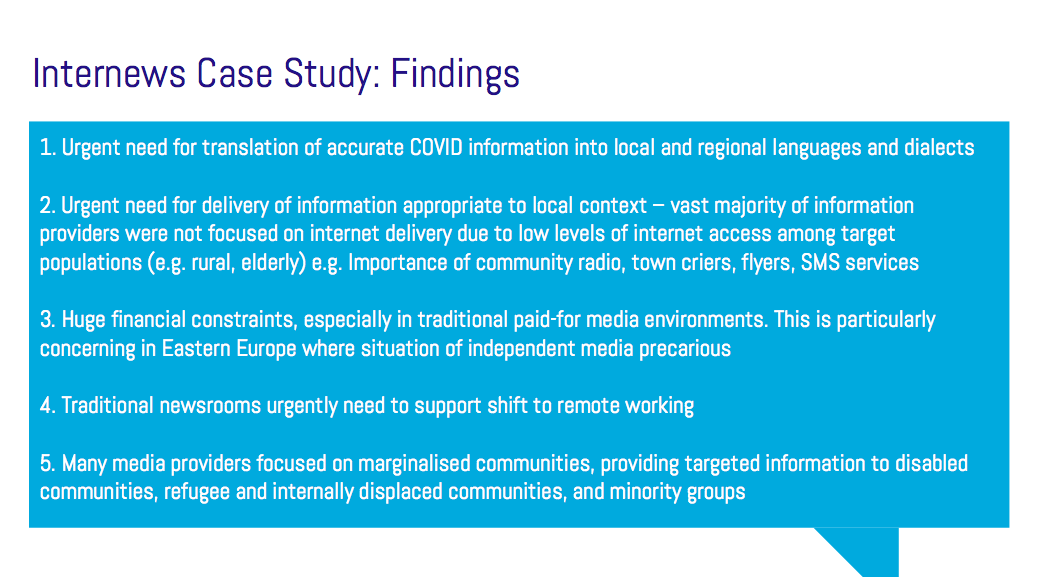 Illustration 4: Internews Rapid Response Fund Submissions Analysis
One of the key messages shared related to the situation in media markets and the hostile environment for media. In this case, the COVID-19 pandemic further challenged the independent media sector, placing economic and political pressure on media, making it difficult for them to investigate and objectively report. 
Many of the respondents were forward-thinking, urging for mid-term, long-term, and post-emergency media sector support that is necessary for dealing with the consequences of COVID-19. They advocated for long-term planning and creating safety nets to ensure journalism organisations can become more resilient to survive future social, economic, or natural disasters. 
Other surveys and analysis of the COVID-19 effects 
Our survey findings were reaffirmed and complemented by insights of other groups and organisations such as Splice, WAN-IFRA, the Reuters Institute, the Independent News Emergency Relief Coordination (INERC), the International Fund for Public Interest Media, European Journalism Centre, and others. They all gathered the most recent data about the state of the sector with the goal of getting a better picture of the situation, informing decision-making, and determining the focus of future efforts and interventions.
After launching the European Journalism COVID-19 Support Fund, a $3 million USD fund to support hundreds of community, local, and regional European news organisations, European Journalism Centre (EJC) received 1,857 applications. Their understanding of the challenges journalists face during this crisis has been summarised in this blog post. They concluded that the majority of news organisations are reliant on advertising and that those without diversified revenue will not survive. The summary also found that one of the key elements that could provide more options to ensure survival is engaged journalism and the development of relationships with the audience. It also concludes that in order to deal with fixed cost challenges, many organisations have been downsizing and cutting costs.
Asian Splice Media ran a Splice Lights On survey looking at the financial conditions of media companies around the world.  The survey results indicated that media companies' business models rely heavily on advertising and sponsored content, which have been severely affected by COVID-19. The survey also revealed that weak revenues are putting strain on companies trying to cover their basic fixed costs (full-time employees, part-time staff, office space), and as a result, most respondents expect to cut jobs over the next 6 months unless they can get financial assistance for their operational cash flow and payrolls.
These findings, combined with GFMD's survey results and other available insights, were shared at a virtual meeting of representatives of bilateral, multilateral, and private donors co-convened by The Center for International Media Assistance (CIMA) and Swedish International Development Cooperation Agency (SIDA) in early May. CIMA is leading an effort to coordinate donor experiences and knowledge exchange, and this meeting was dedicated to the discussion of modalities and mechanisms for providing support to media during the COVID-19 crisis.
How do we move forward? 
With numerous similar initiatives in this field, it is important to enhance our knowledge-sharing mechanisms and open channels for ongoing practitioner-to-practitioner, donor-practitioner, and donor-to-donor information exchange. GFMD is contributing to these efforts aiming to improve the effectiveness of media development and journalism support so that potential beneficiaries increase their capacity to successfully apply for funding and that donors and funders have sufficient information to distribute the assistance where it is most needed. We are using the survey results to feed into multiple conversations, advocacy initiatives, and elaborate projects that we have been planning in the recent period. 
Finally, our findings have reinforced our belief that collective efforts, networks, coalitions, sharing, information exchange, and joint action are needed to respond to the challenges of a global crisis. We invite you to continue to engage with us to help improve conditions for the survival of journalism and the media sector.